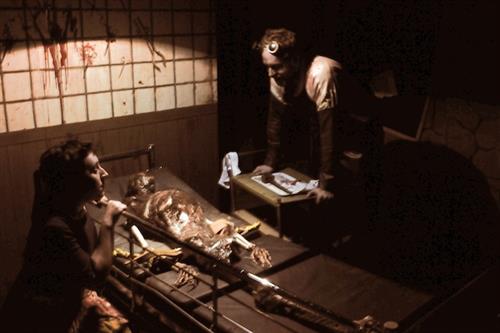 Edge of Insanity Haunted Attraction?, here at ?Weitle's Asylum, is in it's tenth year of operation. Originally started as a joint business venture between myself, my girlfriend (now Wife), and my brother Thomas Ingham, we were all excited and looking forward to opening day. The day before we were to open the doors for the first time, my brother died unexpectedly. So, in memory of him, my wife and I now open the haunt as a fundraiser for the Memorial Scholarship Fund that was created in his name by many of Tom's friends and associates who also loved and respected him.

Even though this is only our ninth year for Edge of Insanity, our haunting goes way back. I remember over twenty years ago being semi-involved with a friend's haunt, on a very small level. My interest grew, and I found myself thinking of different ideas to entertain the trick-o-treaters on Halloween. Years passed and my job required me to relocate. I found myself in Kokomo, Indiana. While working out one night at the Kokomo Fire Dragons, a martial arts school that taught mainly Chinese martial arts, I was approached and asked if I would want to help with a haunted house fundraiser for the Dojo... the adventure began! This is where, unknowingly for me, I was to embark on the creation of what is now an amazing venture into the world of haunted entertainment! We ran the haunted fundraiser successfully for five years, opening not only in October, but also taking advantage of the location downtown, and opening during the Haynes Apperson Festival each summer. It was a hit!

In 2007, I came up with the idea of doing a haunted house of my own. We set to work building and painting inside the two barns located in the back acre of my property After scrounging around the yard sales, collecting anything we could revamp, as well as odd bits of antiques, the stage was set! We were ready to open. Then tragedy struck. I wasn't sure if I even wanted to continue at all. But, my family urged me to, constantly reminding me that my brother Tom wouldn't quit; so neither did I. We opened two weeks later, only long enough to run the last two weeks of the season, but the response we got was encouraging. People really seemed to enjoy what we had, and even though the confusion of being closed after advertising that we were open, then finally opening, we had a pretty good turnout.

So, this Haunt, which has enjoyed many great compliments, is dedicated to him, my brother, my hero. Every year we get better. Every year we get bigger. Always thinking, planning, building, laughing, drawing. So, WELCOME to our little Edge of Insanity! Dr. Weitle's Asylum for the insane. Built at the turn of the century, every October the tortured souls of the deranged doctor rise up for revenge against a man whose mad experiments into the mind, left his poor patients ANYTHING, but cured!
Check back as the Halloween season approaches for schedule and tickets!
Share Your Review
Have you experienced Edge of Insanity?
If so, then please considering taking a moment to share your review below.